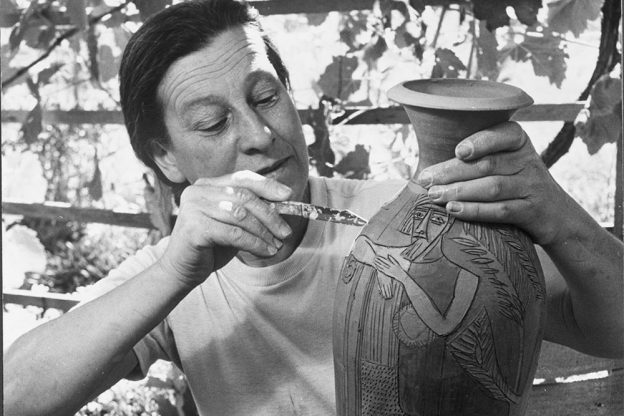 »Marguerite was truly a
›larger than life‹ character«
The life story of the ceramics artist Marguerite Friedlaender-Wildenhain exemplifies how far the ideals of the early Bauhaus spread around the world. Friedlaender-Wildenhain enrolled in the State Bauhaus in 1919 where she studied under Gerhard Marcks. Following her master's examination, the ceramics artists received an appointment to teach at the Burg Giebichenstein School of Arts and Crafts at the end of 1925. In 1930, she married the Bauhaus student Franz Rudolf Wildenhain. After suffering persecution under the Nazis on account of her Jewish background, Marguerite Friedlaender-Wildenhain moved to Holland and then emigrated to the United States. Together with Jane and Gordon Herr, she founded the artists' colony »Pond Farm« in Guerneville, California in 1942. There at »Pond Farm Pottery« she taught summer courses to young ceramics artists every year until 1979.
The following is an interview with her former student Thor Thoreson and Michele Luna of the organisation »Stewards of the Coast and Redwoods« which aims to preserve the ceramics workshop and its history in cooperation with other partners.
Mr. Thoreson, you studied under Marguerite Friedlaender-Wildenhain between 1970 and 1973. What brought you to »Pond Farm«?
I first began making pottery while I was a student at Luther College. By the middle of my third year, I had completed all of the requirements for my major, Political Science. There was a young pottery teacher, Dean Schwarz, who was making a big impression on a lot of students, and I took his class. He had been a student of Marguerite's at Pond Farm, and encouraged his more serious students to go to Pond Farm and work with »the master«. I soon became very serious about learning to make pots and before long, it became a goal of mine to go there.
What did you experience during that time? What was the atmosphere like? Could you tell us something about the daily routine at the workshop?
I found the Pond Farm experience to be quite unlike anything I had ever encountered. I had grown up on a farm in central Iowa, and so the California landscape was unlike anything I'd ever known. The redwood trees, the mountains, the Pacific coastline, and the Russian River, were all overwhelmingly beautiful, and provided the perfect setting for serious learning. My first year, probably five or six of the 20 students were there for the first time. Those who had been there before, were a good source of how to approach the experience.
Class would convene at 8 am and go until 4 pm. We'd all try to arrive a bit early.  Marguerite would appear around 8:45, brimming with energy, and often sitting on a bench under the peach tree in front of the studio, often sharing a poem, or story, or comment on the latest news. At 8, we'd all go to our wheels and start working. Each of us was given an individual assignment based on what she thought we should be concentrating on.  She would make the rounds and offer advice or criticism to each of us in turn. The air was charged with energy, an we'd all strain to hear what she was sharing with our fellow students, sometimes anxious, sometimes dreading her arrival at our wheel. It was always quite quiet. One could hear the birds outside and the occasional car or hiker passing by. Everyone would be absorbed in their own project, but trying to drink in all that was going on around them. It was quite intense but proportionally rewarding.
What kind of person was Marguerite Friedlaender-Wildenhain?
Marguerite was truly a ›larger than life‹ character. She was not very large in stature, but her presence was immense. When I became an advance student and was working in the smaller studio off of the main workroom, I would test myself to see if I could tell just by feeling the energy in the room, when she entered the door far behind my back. I was seldom wrong.
She was stern, and yet she was warm. As with any group of people, there were some students she didn't connect with. In most cases, however, each student had a personal and unique relationship with her. I've always been amazed at how different each former Pond Farmer's experience was from each other's. She loved to laugh, and as I've always had a special appreciation for those with a twinkle in their eye, I was profoundly aware of hers.
You are still working as a ceramics artist. How did your time at »Pond Farm« influence you?
I'm quite sure I would not have become a potter if I had not met Marguerite. I've come to realize that way more than teaching us how to make good pots, she was teaching how to live. I'm quite sure I've never met anyone who lived their life with more integrity than she did. I try to honor that in my own life. Of course, I call upon the practical lessons I learned at Pond Farm in the work I do on a daily basis. She would teach us how to critically look at our work, find what was strong and what was weak, and then do better next time. This has kept my work evolving and hopefully improving for the 45+ years I've been a potter. But the really valuable lessons I learned were the ones that had to do with learning how to see, really see. That affects everything I do on some level.
Ms. Luna, how did the »Stewards of the Coast and Redwoods« learn about the plight of »Pond Farm«? Could you tell us something about the »Stewards of the Coast and Redwoods«, its goals, its projects?
Stewards of the Coast and Redwoods (Stewards) is the nonprofit organization that supports State Parks in the Russian River sector of the Sonoma Mendocino Coast District. We support volunteer programs at Armstrong Redwoods State Natural Reserve, Austin Creek State Recreation Area and at Sonoma Coast State Park. Our volunteers staff two visitor centers and a three nature stores, lead adult tours and hikes, educate the public about local marine mammals, educate over 4,000 school children through docent-led environmental education programs (redwood ecology, watershed science, and marine ecology), support citizen science mornitoring programs (seabirds and pinnipeds) and conduct stewardship projects including beach cleanups and trail maintenance in our State Parks.
Stewards became interested in Pond Farm when one of our volunteers, Russ Whitman asked State Parks about restoring the site back in the early 90s. At that time State Parks was reluctant to restore the site but gave Stewards permission to collect information for archival purposes. At that time, the Pond Farm Interest Group was formed and Russ Whitman and Laura Parent, who was a State Park Maintenance Worker worked together to collect information, make contact with Pond Farm students and conduct an annual cleanup of the property. In 2012, Austin Creek State Recreation Area was listed as a park that would close when State Parks was suffering from underfunding. Stewards stepped up at that time to enter into an operating agreement to help manage Austin Creek SRA. Since Pond Farm is located in Austin Creek, Stewards and two other nonprofit partners, the California State Parks Foundation and the National Trust for Historic Presevaton became interested in helping State Parks revitalize this significant cultural resource. One of the first steps was to get Pond Farm on the National Register of Historic Places, which was accomplished in 2014.
What was the condition of »Pond Farm«?
Today, with the help of the nonprofit/State Park partnership, the buildings at Pond Farm have been stabilized. In 2016, the historic barn/pottery studio and Marguerite Wildenhain's house were stucturally stabilized, their foundations were replaced and new roofs and some new windows were installed. The kick wheels in the barn still work but need some maintenance. The guest house is in good shape and there is funding to use this facility for an Artist in Residence program. The grounds have remanents of the plants that Marguerite planted and in general is a very peaceful area of the park.
What significance does »Pond Farm« have for the region?
There are a number of culturally significant sites in the State Parks in the region, but most of them include Native American and Russian history as well as the history of logging that was done in the area. Pond Farm is significant to the world of art and specifically craft and ceramics. Most people who have studied ceramics have heard about Margerite Wildenhain and Pond Farm. This quote by Caitlan Strokosh, who worked for the Alliance for Artist Communities summed it up perfectely.
»Pond Farm – as a place, a history, and a crucible of ideas – is widely significant and compelling. The arts offer a path forward for Pond Farm's future use and as a model for struggling historic sites throughout California State Parks and across the country. Bringing artists to live and work at the site again can ensure the vision of Pond Farm is not lost, as well as provide dynamic engagement with park visitors and the broader community.«
What are your long-term goals? What are your plans for »Pond Farm« in the future?
Plans for Pond Farm include docent-tours, an Artist in Residence Program and future restoration of the whole site including the landscaping. We have convened a volunteer working group that has almost completed a new Docent Training Manual and we expect to conduct our first training in the spring of 2017. I was fortunate to attend a conference put on by the Allliance of Artist Communities about emerging residencies which will help us start an Artist in Residence program as soon as the guest house undergoes remodeling to be wheelchair accessible. In addition, we will be working with the Cultural Preservation division of California State Parks to fund a planing document for the final restoration of Pond Farm. This will be a public process where we will decide exactly what activities will take place at Pond Farm and then develop plans to renovate each of the buildings to accommodate those plans.